泰力赴日研修Kawasaki最新維修技術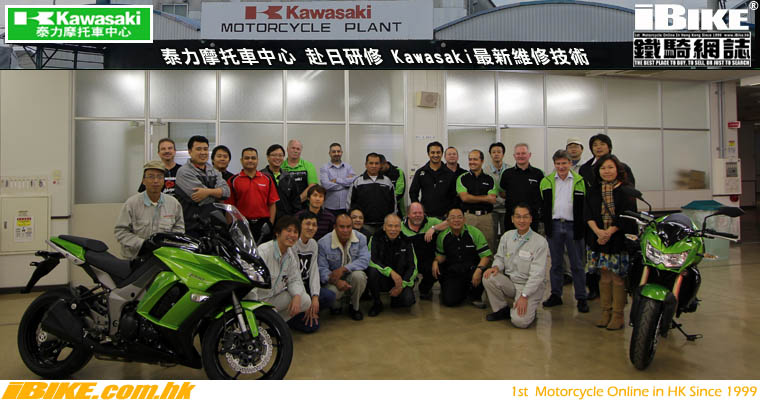 只有豐富的經驗,才是專業的基礎
Kawasaki港澳總代理 泰力摩托車中心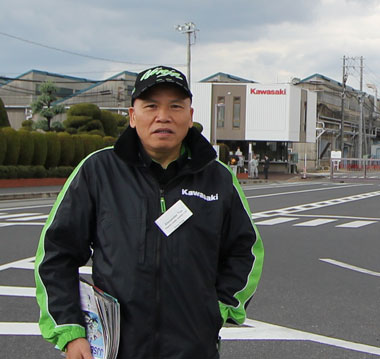 由1971年開業至今,泰力專注為顧客及其愛駒帶來優質服務及持續不斷的專業支援。最近泰力摩托車中心的負責人謝老板便率領數位維修技術員,特意遠赴位於日本神戶的川崎明石工場,進修廠方最新的維修技術。

明石工場是川崎重工用作研製飛機引擎、郵輪、浮磁列車、電單車及水上電單車等的重要基地。今次研修班,有多位來自不同國家例如英國、荷蘭、美國等地的專業工程師與各亞洲區的總代理一起出席,大家聚首一堂,作出緊密的研討及實踐,令泰力深入掌握2011年Kawasaki各款全新電單車型號的最新技術構造及維修知識。
日本川崎對產品的要求十分嚴格,新車的結構雖然精密,但對泰力摩托車中心來說,Kawasaki產品的維修特性卻是越來越容易掌握。此全賴泰力摩托車中心擁有豐富的維修經驗及一直得到廠方的技術支援,雙管齊下,才可進一步提升客户駕駛的樂趣。







Kawasaki 2011

年新

model

更為顧客帶來無限驚喜,例如

2011

年

Ninja ZX10R

是全罩式

Full Fairing

跑車之中,唯一可推動至

210

匹的

1000cc

電單車

;

史上最強的

Ultra 300

匹水上電單車,更是全球最大馬力的水上摩托艇

……

等等,

Kawasaki

為產品提供最新科技之餘,更不忘駕駛樂趣和情懷。





是次培訓令泰力摩托車中心及其員工獲益良多。此行更令泰力員工們深信:只有豐富的經驗,才是專業的基礎。

因為沒有豐富的實踐經驗,便絕對不能給予客戶安全及優質的維修服務。

所以,泰力摩托車中心上下仝人都相信,在擁有數十年維修經驗的泰力謝老板的領導下,再加上泰力摩托車中心每一位專業的維修技術員,才可令客戶無論是玩車、用車或是商用,都可得到永久的照顧---絕無後顧之憂。

泰力仝人在此祝願各位:新年快樂、人車健康。

Since 1971, Titanic Moto Centre Ltd strives very hard to give its customers quality and professional services in all aspects of motorcycling. In December, 2010, Titanic's director and technicians visited one of Kawasaki service arms located in Kobe, Japan and received professional training on maintenance and performance-optimization of Kawasaki 2011 new models. Kawasaki 's Kobe arm is one of the most prestigious plants researching and developing product lines not limited to aerospace engine, industrial robotics, ships, trains, motorcycles , jet ski, among a diverse range of high-performance products. Kawasaki always maintains a demand for highest quality of its products. Not only the conformation of Kawasaki bikes is becoming more and more precise and detail, we also found that the bikes are becoming more and more user-friendly and performance-driven at the same time.

The intensive training program was conducted by a number of professional engineers and trainers from various countries including England, the United States, the Netherlands, etc; who offered our technicians valuable insights and in-depth knowledge about the advanced maintenance methodologies as well as innovative techniques in pushing your Kawasaki bikes to its optimum performance without compromise. Through exchanging new ideas and performing hand-on engineering experiments, Titanic and its technicians as a whole have mastered utmost skill sets about our 2011 new models and through this enriched training experience, we are confident that we can further bring our customers unlimited enjoyment and satisfaction from our comprehensive services.

 

Making many good friends with Kawasaki Japanese staff, bikes lovers, and other Asian Kawasaki distributor representatives makes this trip even more meaningful and valuable. We believe our experienced technicians and Kawasaki's brilliant technologies are the key elements to offer our customers a safe and pleasant drive with their Kawasaki bikes.

 

In addition, we assure all our customers that each and every 2011 Kawasaki bike or jet ski will bring lots of great surprises to all of you, such as Ninja ZX 10R being the only 1000cc bike which can deliver a mighty 210 horse power; the ultra 300bhp jet ski is the fastest personal watercraft (PWC) globally, just to name a couple of examples.

Finally, we would like to extend our warmest welcome to you as a bike lover to check out our 2011 new models which will be approaching our showroom in February, and we wish everyone a happy and healthy New Year of the Rabbit.