Today Dainese is presenting a development of the system which extends this protection to the trunk. The entire pneumatic system has been redesigned to increase the body area protected without any sacrifice in ergonomics -
a crucial aspect for facilitating adoption by professional riders. The size and geometry of the airbags have consequently changed, extending them to "hug" the rider's trunk, while a larger capacity gas generator has been adopted to maintain the high inflation pressure which made the outstanding performance just mentioned possible.

D-air®Racing Thorax, as we have named this advanced system, has been used by Luis Salom for over a year, during which he has been able to test its protective abilities on more than one occasion in highside crashes and slides. His verdict?
"The first time that I tried the D-air®Racing it was at Jerez 2011. I'm now happy to use the new D-air® as you can feel more protection not only on the shoulders but on the thorax as well. The safety feeling is definitely higher."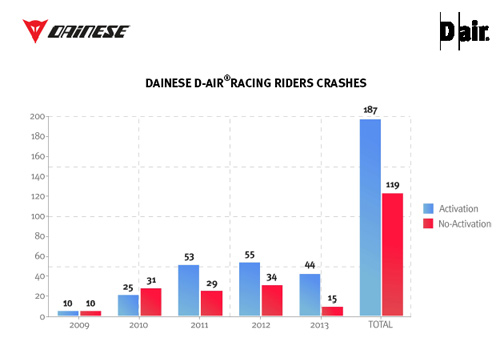 D-air®Racing Thorax will gradually be made available to other Dainese riders as the first in a series of planned developments of the pneumatic and electronic systems alike, benefiting from the precious experience Dainese has acquired through constant development and refinement since the early designs were first tested on the track at Valencia in 2007.
But like all Dainese products, D-air® isn't just for our racing riders. Since 2010, any motorcyclist can buy D-air®Racing from a select network of Dainese dealers, and even get their own customised versions. It will be the same for our future developments once they have gone into production and certification has been obtained.
At which point it's worth remembering that D-air®Racing and the road version D-air®Street are the only motorcycle airbag systems to have passed the 800 rigorous tests required to obtain prestigious Tüv Süd certification of their
performance and reliability.